Date
Sunday, December 11th, 2016
Address
Start/Finish:
South Gate Sports Center 9520 Hildreth Ave, South Gate CA 90280 View Map
Start Time
5K/10K RUN/WALK START: 8:00 A.M.
KIDS 1K RUN STARTS AT: 9:30 A.M.
Description
Welcome to the 4th Annual Jingle Road Run 5K/10K Run/Walk.
The race takes you through historical areas of South Gate. This event benefit Aztlan Athletics Foundation Gateways City Chapter, which includes the City of South Gate. The race is hosted at the Goals Soccer Center with plenty of parking and no hassle traffic. Bring a toy! This is also a host to the annual toy drive that supports all the communities of the gateways.
Features
T-Shirt
Overall division medals
Overall best costume (Gift Certificate) Festival Holiday Outfit booth with winner in conjunction with medal ceremony (between 8 & 9)

Categories are:

Best Holiday Outfit
Best Ugly Sweater
Individual Winner for up to age 17
Individual Adult Winner

Goody Bag
Course Certified
Race Pictures
Event Timed
Finisher Medals for All Pre-Registered Participants
Food and Drinks
Music
Kids' Activities
Awards
Course
The race route takes you from South Gate Park southbound to Tweedy Blvd. where you will run a westbound direction out and back along the Tweedy Mile business district. This race takes place on a closed course before the city's annual holiday parade on Tweedy Blvd. The course is flat and makes for fast time(s) for those looking to push their speed limits and record a new personal record (PR) and as well suited for our first time runners! Expect fully stocked water station(s) at the start and mid turn-around point.
Parking
Plenty of complimentary parking will be available at the Azalea Shopping Center located at 4827 Firestone Blvd, South Gate, CA 90280
Event Schedule
6:30 AM to 7:45 AM: Race Day Registration/Check-in
7:30 AM to 9:00 AM: Toy Drive Drop Off
7:45 AM: Race Day Briefing
7:50 AM: Warm up
8:00 - 9:00 AM: Festival Outfit Fashion Booth Open from 8 to 9am
8:00 AM: Race Start
9:15 AM: Race Course Closed
9:30 AM: Kids 1K Run Starts
9:30 AM: Race Awards
9:45 AM: Medal Ceremony & Holiday Outfit Winners Announced

Additional Info
T-Shirts Availability: Guaranteed t-shirts for all pre-registered runners only, same day registration will receive a t-shirt while supplies last and available.
Corporate wellness teams welcomed. Minimum 10 runners for complimentary booth. For more information on procedures, contact Juliano Jarquin. juliano@aztlanathletics.org
Prize Money:
Elite Invitational Field
Presented by 711.

$500.00 - Overall Winner for 5K only. Female & Male

Performance Bonus Money:
First Under 14 minutes Men
$1,000.00

First Under 15 minutes 30 Sec Female
$1,000.00

First Under 13 minutes 30 sec Men
$2,000.00

First Under 15 minutes Female
$2,000.00

American Record:
$5,000.00
Must be USTF member in good standing
Please contact the Race Director concering Elite Invitational. Must confirm attendance and be present to collect prize money.
Registration Info
Packet Pickup:
Please pickup all race materials (i.e. bibs, shirts, etc.) on race morning at the. Azalea Shopping Center
SAME-DAY REGISTRATION: Please pick up all race materials from 6:30 AM to 7:45 AM at race site on race morning. All may register Azalea Shopping Center here as well (No discounts available on day of event registration. Full price is required to participate.)
5K Run/Walk

$30.00

10K Run/Walk

$30.00

Kids 1K Run (Ages 9 & Under)

$15.00

Online Registration
Online Registration
Sponsors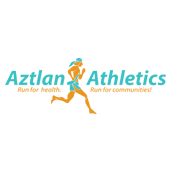 Sponsorship and Vendor Opportunities
For sponsorship packets please click here to download application.
Download Application
Beneficiaries
Aztlan Athletics Foundation South Gate Chapter & Gateways Communities
Event Directors
Questions, comments and inquiries please email:
Juliano Jarquin
juliano@aztlanathletics.org
(714) 345-3451 Jose Zavala
jose@aztlanathletics.org
(626) 755-8489
Media Kit
Download Postcard